Geoflow (https://www.geoflow.io/) is a new travel and educational app for iOS and Android that uses your phone's location to find nearby Wikipedia articles. It's useful for tourists in a new city to find interesting landmarks and sites right around them. It's a simple concept with more utility than you'd expect. If you're interested in history and learning more about what's right around you, it's definitely something worth checking out. I've found it interesting to use walking around New York City, where there's a wealth of content any where you go. Useful for subway rides and commutes! I also think it'd be great for parents on vacation (i.e. nerdy dads) as an educational tool or a way to help plan parts of a trip. There's a lot of cool content out there! This helps you find it.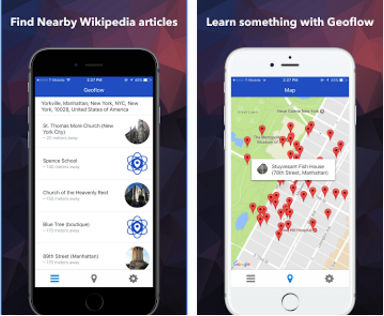 There's a list view and a map view in the app. You can navigate around the map view to find articles in different locations, other than what's immediately nearby. The list view gives you a summary of the articles on the map, so it's easy to skim and browse.
There's also a web version available at https://www.geoflow.io/ that lets you discover Wikipedia articles in your web browser (no need to download anything). The Geoflow Facebook page: (https://www.facebook.com/Geoflow-319062628513604/) and Twitter account (https://twitter.com/Geoflow_Bot) also periodically post random Wikipedia articles about a location in the world, so that followers can find new things in their feed every day.
For anyone who's curious and interested in learning more about history, miscellaneous trivia, or landmarks, this could be a very useful app! And for those who aren't, maybe it's something worth using while traveling in a new city. So go try it out and learn something new about wherever you are in the world. You won't be disappointed!