Wej Camera is a new app designed and developed by Michal Paulovic, giving users a whole new way to enjoy life outside. It brings you an opportunity to create time-lapse videos of the places of own your choice. By downloading this amazing app, you become a member of Wejwej community, a group of people wanting to make their outdoor journey quite interesting.
Photos taken by you and other members of this community make a time-lapse video, showing how the place has been changed over the specific period of time. Really, it feels awesome when you go outside and look for the places where other community members have already reached. Available on Apple App Store, the new Wej camera app is ideal for those looking for something new to make their life more thrilling. So, with this app, you like spending time outside, sharing your new places with your friends and a lot more. For more info about the concept behind this amazing app, visit https://www.wejwej.com.
I myself enjoyed it a lot. Everything works superbly and there's no rocket science required to make this happen. Let me tell you how I got to know this app, I was suggested by one of my school fellows to try Wej Camera app. First off all, I didn't give it any attention and thought it would be something like normal stuff. But upon his continuous insistence, I somehow managed to find some time to download it from Apple App Store absolutely free. That's how I fall in love Wej Camera app, designed to add an intriguing touch to your life.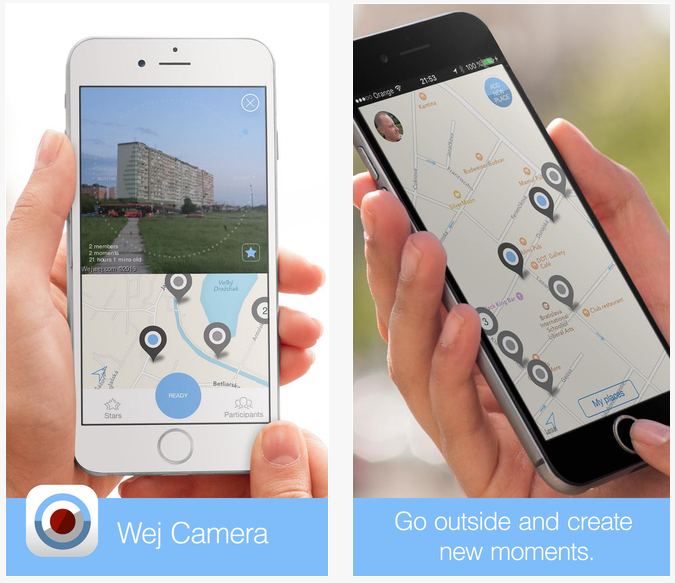 You can add new spot to already listed place and this is possible only when you're in the given range of 50-meter and your GPS should be strong in that particular region. Upon hitting the Shutter Button for the first time, you'll see an overlay feature requiring some action from you to fit the photo flawlessly.
After adding your photo to the Slideshow, Wej Camera creates a unique, time-lapse video from a host of photos taken by you and other community members. You can also remove your shot from the slideshow if it's not up to your expectations. Once you've got it all right, you're free to share it with your friends on one of your favourite social networks.
You can also add a new place only when there's not any other already listed place in the radius of 50-meter, giving others a new place to add their own reactions. Other community members will find it later when it'll have three moments as a minimum.
If you're experiencing poor internet connection, the offline mode lets you add new photos to those places that have already added or downloaded to the application in your smartphone. It'll be synchronized to the map once you're connected to a better internet connection.
Overall, it's a great app making your outdoor trip quite awesome and I bet you'll definitely love this whole new concept.