No one wants to get defrauded of their digital assets when trading with an exchange platform. This is one of the major reasons why people are reluctant to trade their digital assets like gift cards until they are sure that you can be trusted.
Also, with the increase in online fraud activity, trading online has become a far cry for many people. To avoid the trial and error method people employ in searching for a platform to buy, sell and trade gift cards, you can get started with CardVest.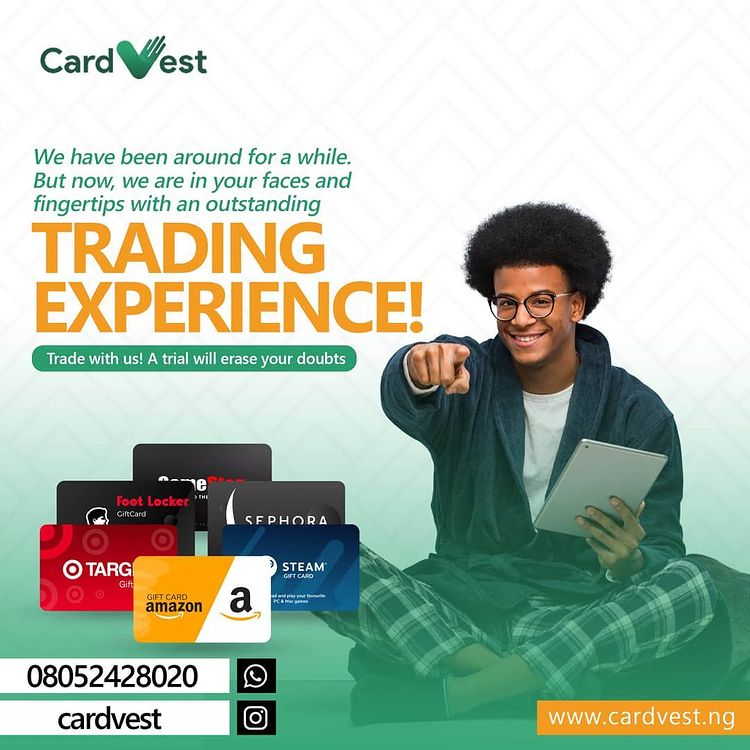 CardVest has a fully automated mobile application that allows customers to sell and exchange gift cards for Naira. CardVest app is unproblematic and easy to use as it is structured to give everyone a smooth trading experience.
It would interest you to know that the CardVest app is not a regular Gift card exchange platform in Nigeria; there are some interesting features that set it apart from other platforms. Have a look:
The App is User-friendly
It is distasteful having to browse the menu of an application looking for how to get started with a trade. This is one of the primary factors that discourage people from trading. However, the case is different with the CardVest app, as you can easily find your way around the app. From the point of signing up to card verification and payment, everything happens in a breeze.
CardVest App has a Terrific Security Structure
You don't have to worry about your security and privacy being tampered with. The app is fortified with top-notch security measures that make all your information inaccessible to third parties.
Furthermore, there are regular upgrades and updates to the app that makes it difficult for fraudsters to keep up. When it comes to security and keeping your data safe and untouched, CardVest has you covered.
Rate Calculator
If you want to know how much you will be paid for any Gift Card amount, CardVest has made this possible for you. CardVest App comes with a rate calculator that shows you how much you will be paid for any gift card you trade. This is CardVest's little way of providing you with premium convenience when trading on the app.
Highly-Skilled Customer Service and Tech Support Team
One of the reasons why your trading experience on CardVest will be worthwhile is because the customer support and tech team are core professionals vast in their respective fields. If you have enquiries on how to trade gift cards for cash, the customer support has you covered. As mentioned earlier, the upgrades and updates on the app are courtesy of the Tech Support team.
A broad range of gift cards are accepted
CardVest accepts a broad assortment of gift card types ranging from Walmart to Amex Gold, GooglePlay, Amazon, iTunes, Steam, Sephora, Visa, Nike and a host of others. To know if your gift card is among the list of accepted cards, click on "category" while placing your order.
How to Sell Gift Cards for Cash with CardVest
On the home page, select "Trade Now" and enter your details on the "Sign Up" page.
Choose the Category first, then select the Gift Card
Fill in the amount (USD)
Fill in all the Trade details and place your order
Submit the card details and await confirmation which precedes instant payment once the card is verified.
Bonus: You can download the app on Google Playstore, and perform subsequent trades faster on CardVest
CardVest app has state-of-the-art features in place that allows customers to trade at any time and any place without any encumbrance. The platform's goal is to provide customers with memorable, full-fledged and excellent services that keep you coming back for more trades.