What is only 3lbs…  can power a computer & a printer OR a light & fan for HOURS AND HOURS… and is only roughly the size of a book? The ANYWHERE AC POWER HUB MINI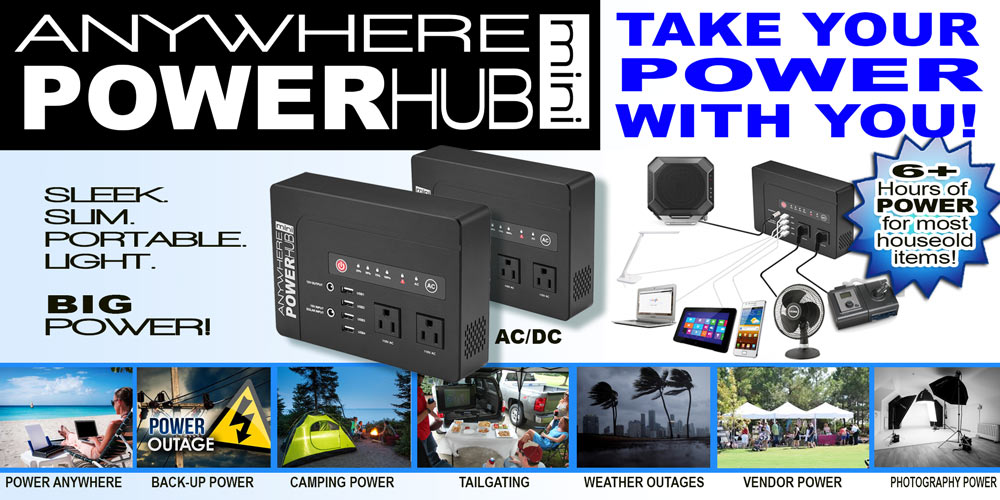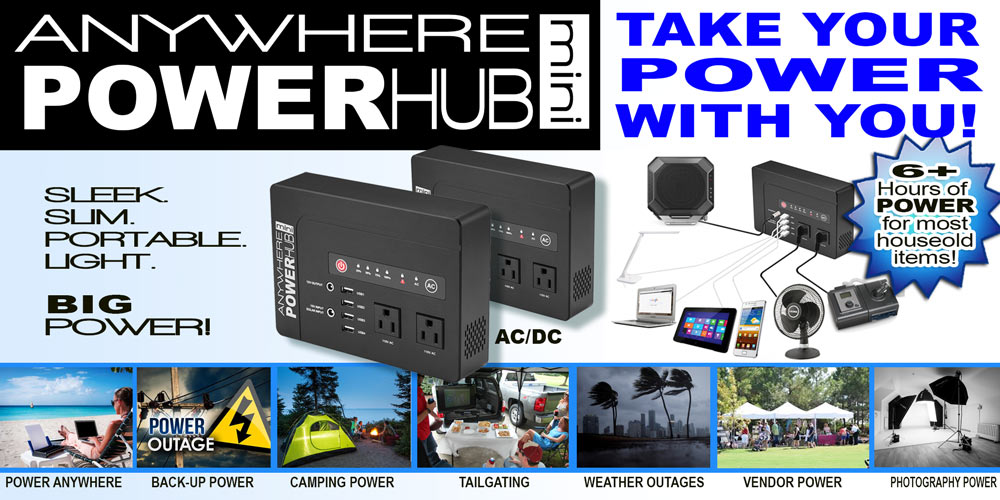 This Next Generation Lithium Ion AC/DC Power Hub is as a Portable and Emergency Back Up Power Bank with a HUGE 40,000 mAh of Power (146Wh)! Despite the massive power and functionality this unit is Light-Weight and Quite Small! This will Power your Laptops, Fans, Lights, Printers, Phones, Tablets and More! This unit is perfect for the traveling business man who needs power on the go, the tailgate partier who needs his game monitor, the camera man who needs to power lights and charge devices and of course the outdoorsman who camps, hikes and goes off grid! This high capacity power bank can be an EMERGENCY POWER BANK for your home, office or apartment providing power for most household electric devices using it's two standard 110 AC Power Outlets! PLUS You can simultaneously power your USB devices like smartphones, cameras, tablets and gaming devices. 
Let's talk Emergency Back-Up Power during a natural catastrophe or storm power outage.  Quite often you simply need a couple of hour of power for a device or two to charge those phones, run that printer, boot up your wifi router or simply turn on a light.   You cannot run a generator in a house or apartment! Most batteries are huge and heavy and don't have a 110 inverter for plug and play! Well now you simply pull out your ANYWHERE AC POWER HUB MINI and you are up and running!
Look no further for the best Tech Item out this season!
See Special Pricing and Discounts Here http://thingymagadgets.com/portable-power?wpam_id=4