The tool which we are going to discuss in detail is PrePostSEO. It is available online and used by numerous users there for unlimited services and tasks. Without further ado let's get started;
PrePostSEO- Online SEO Tools: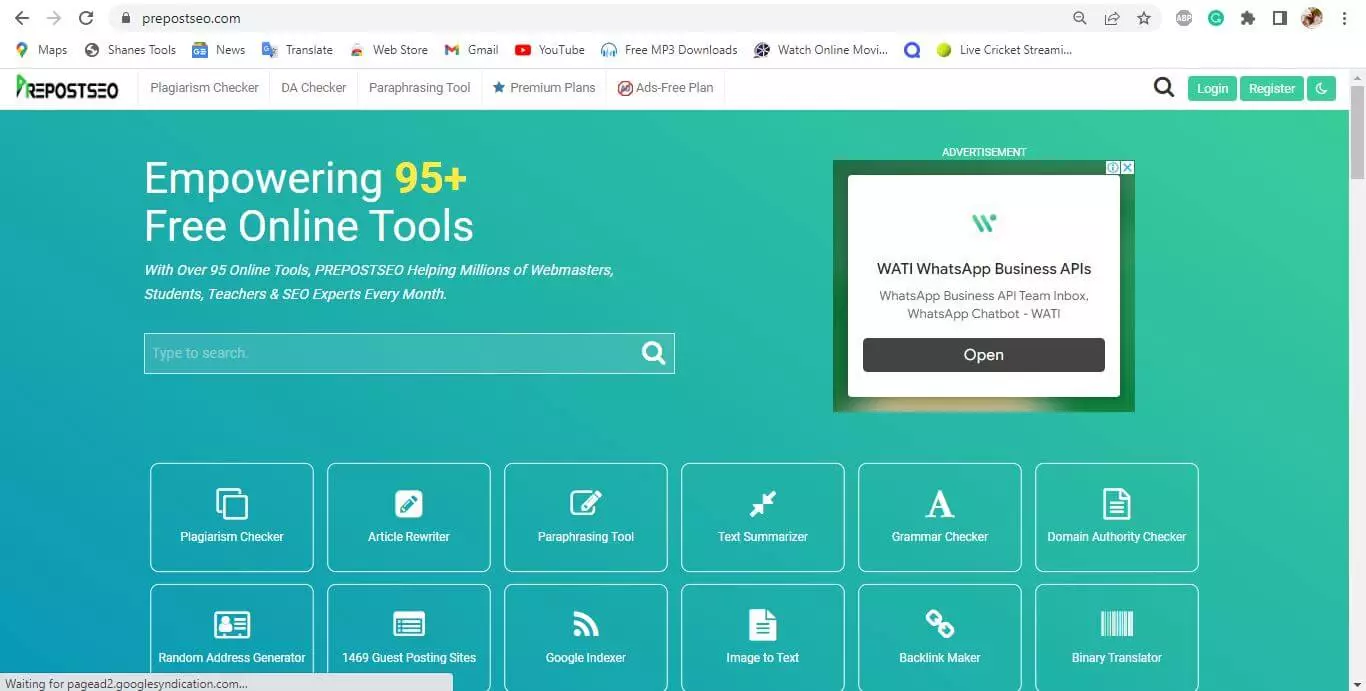 Prepostseo.com is one of the top free tools and service providers specifically for search engine optimization.
They claim to empower 95+ free online tools that help you perform any task within seconds. The PrePostSEO is helping millions of users, Webmasters, professors, students, bloggers, and SEO experts every day.
Their goal is to provide accessibility to everyone and easiness the tasks and resolve people's problems by saving their time and efforts.
It works best for best SEO practices that can help you generate authentic SEO content, blog content, or website content for your valuable customers.
This content marketing agency not only helps individuals but also helps different agencies.
What do they provide?
They claim to provide the best SEO services to all the Webmasters there. Although, they tend to foster a wide range of tools that perform exceptionally incredible. But the Plagiarism Checker and Online Paraphrasing Tool are the most used tools among the rest.
Pros of PrePostSeo:
Here are some Pros of PrePostSEO online SEO tools mentioned that you should need to know about before using;
Permissible Limits:The tool evaluates the usage of any individual through queries and people who are using it for free can make up to 500 queries per month. Whereas, the paid users can access around 5000-75000 queries per month depending on the membership subscribed.
Website Plugins:All the relevant plugins are available for you on the website. So that you may use it anytime you want. They provide you with a WordPress plugin as well to make your tasks and content efficient.
Multiple Languages:Multiple languages can be a plus for any website. It boosts your website's reach to worldwide platforms for next-level engagement. Most of their tools provide you access to languages including Spanish, Turkish, German, French the list goes on.
Cons of PrePostSEO:
Here we've listed some Cons of PrePostSEO online SEO tools that you need to know about before using them;
Ambiguous Database:Most people claim that they've faced issues related to their insufficient database. That is because they do not update their database regularly and have quite a poor content database.
Inaccurate Reporting: You can get horrible results sometimes while checking plagiarism through their tool. They create problematic reports for the users as the database isn't updated.
Lacks in PDF Download:The most common disadvantage that we've discovered is that they miserably fail to provide you with the PDF download if you're not logged in.
Pathetic Customer Service:They are not up to date in resolving users' queries accurately. User complains that they're not provided with proper solutions if they get stuck anywhere.
PrePostSEO Plans & Pricing- Premium: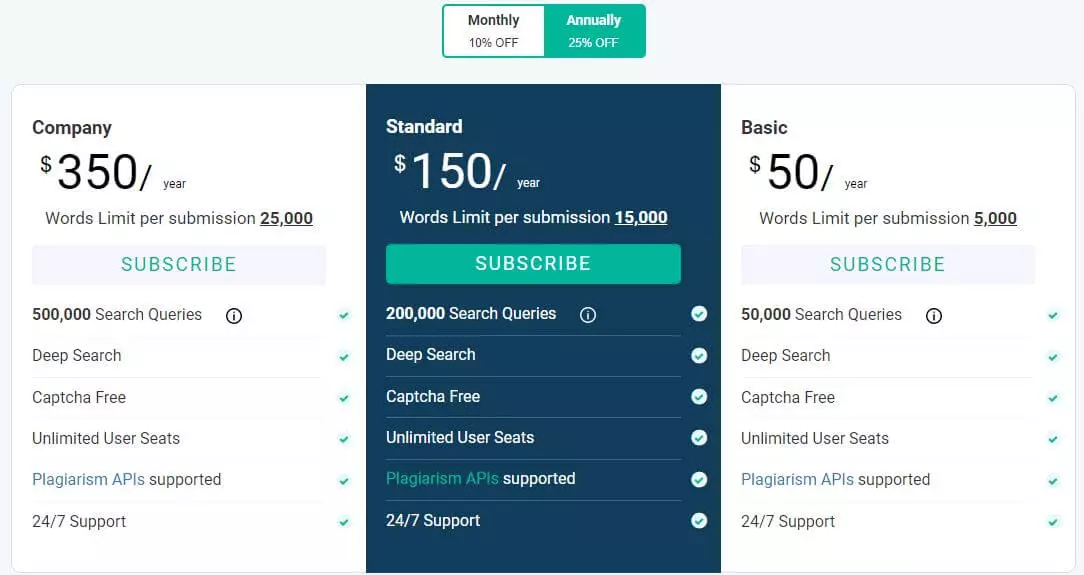 PrePostSEO provides you with two options for subscribing to their premium plans. The first one is to get a Monthly subscription and another one is to have an annual subscription to their premium version.
They've three monthly subscription packages that range from basic $10 – company $45 and annual subscription packages that range from basic $50 – company $350.
PrePostSEO Online SEO Tools Quick Review:
Plagiarism Checker- PrePostSEO: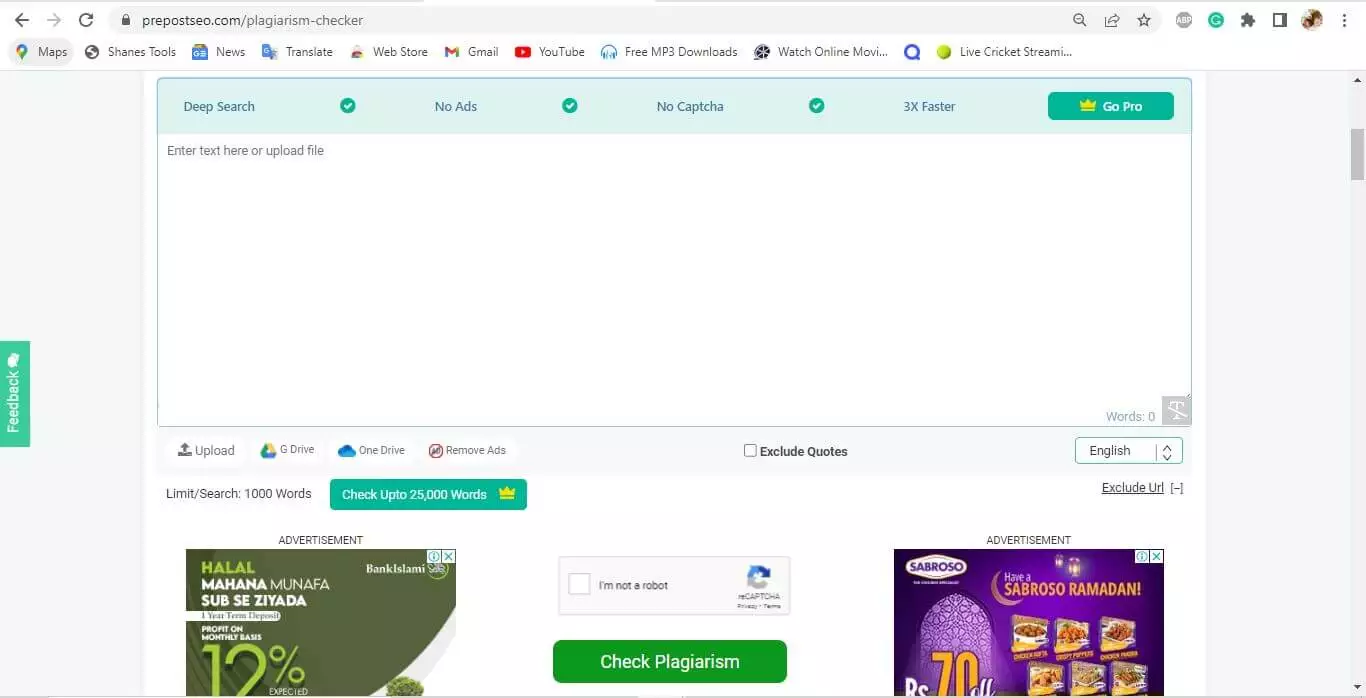 The Plagiarism Checker is the best tool that PrePostSEO is providing to users. It works best for you if you want to check any sort of plagiarism.
The purpose of the tool is to serve people with whether they have plagiarism in their content, writings, assignments, or not. It has become difficult for students to write assignments that are 100% plagiarism-free. The websites don't want to get a strike for stealing someone's content.
The solution to all these worries is Plagiarism Checker, it helps you identify plagiarized content and can save you from distrust and disloyalty.
Features:
Limits/Search of 1000 words in the free version.
Different uploading options are available like Upload, G Drive, and One Drive.
The additional option of excluding quotes is also available.
Supports a variety of languages.
Article Rewriter- PrePostSEO: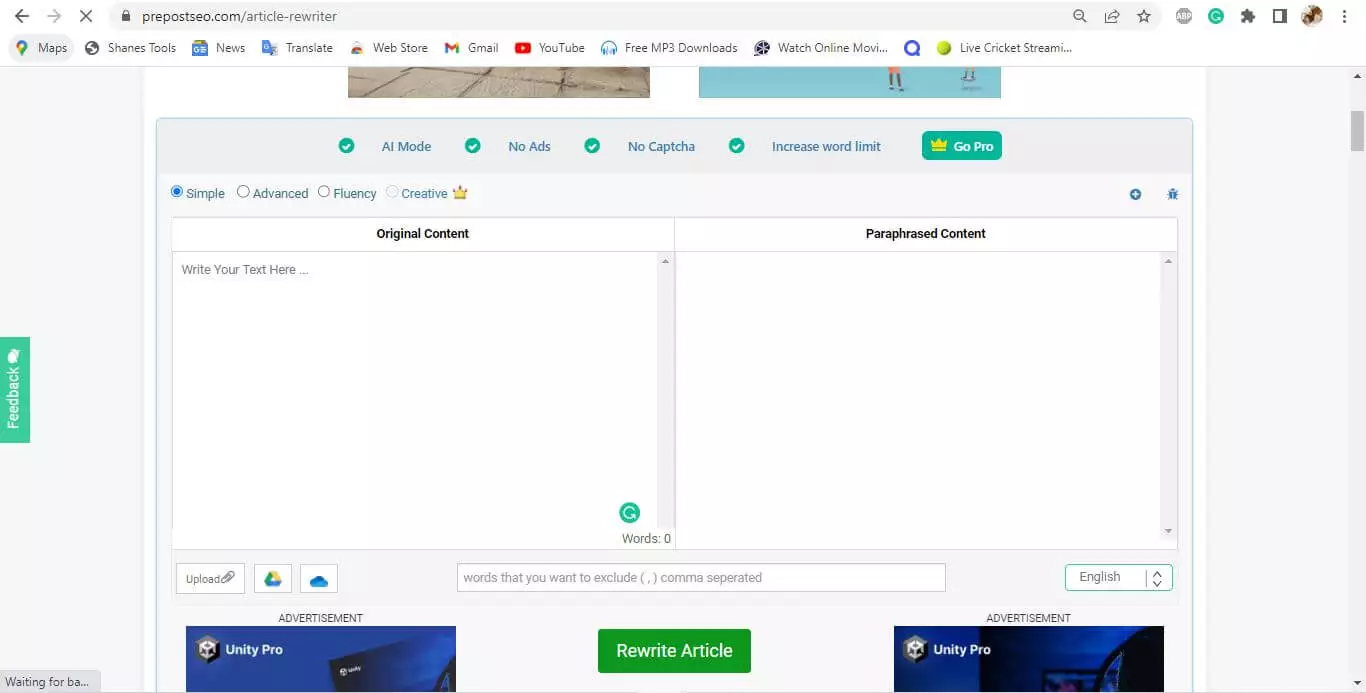 All these tools are somehow interlinked. Once you find plagiarism in your content. What would you do? Simply rewrite it in a way that eliminates the plagiarized content from your content.
Article Rewriter works the same. The purpose of this tool is to recreate the content by changing the phrases and synonyms with similar meaning words. It also changes the sentence structure of the content so that you don't have to do anything manually. In this way, one can save a lot of time and invest it in something productive.
Features:
Different Modes like Simple, Advanced, Fluency, and Creative for Premium Subscribers.
The uploading option includes browsing from computer storage, Google Drive, and One drive as well.
Another tab is available for words you do not want to rewrite are typed there.
Supports different languages.
Paraphrasing Tool- PrePostSEO: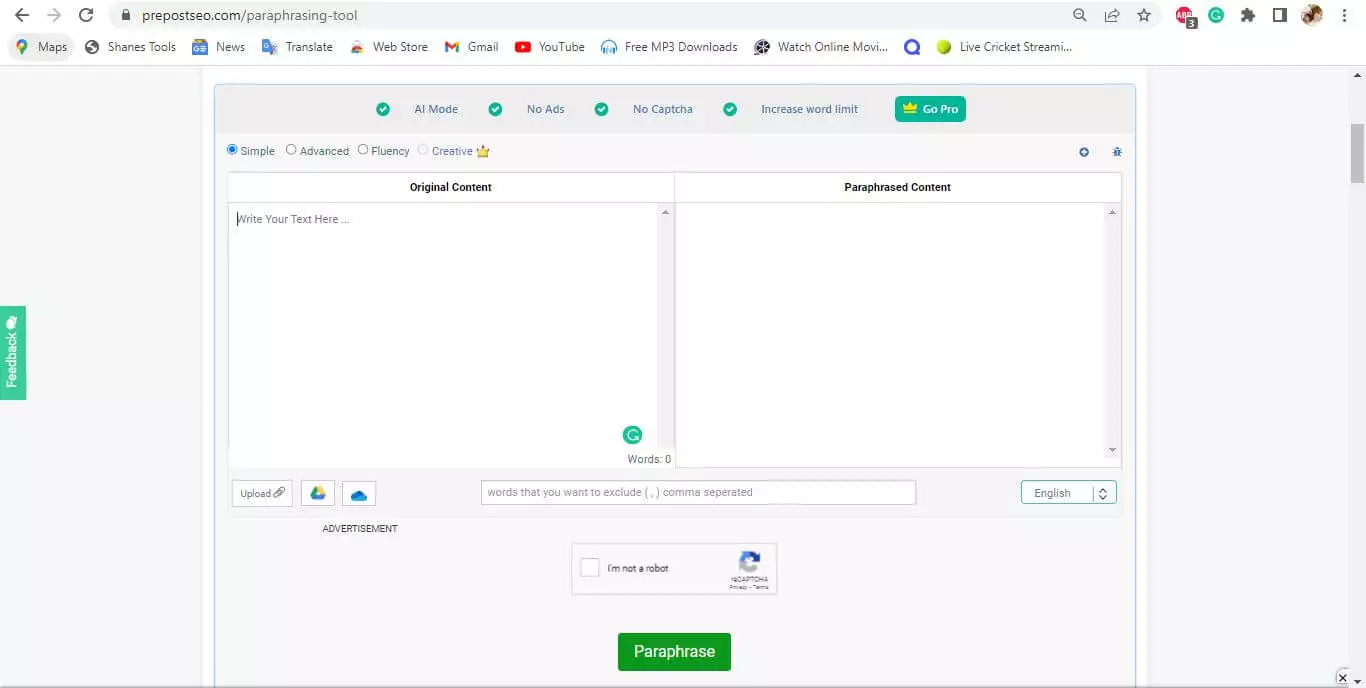 Proofreading or paraphrasing has a lot to do with your content no matter if you're a blogger, teacher, or student. Most of the times students are advised to paraphrase what they've written in their assignments to minimize the chances of mistakes.
Although it is preferred to do it on your own to enhance your skills and learn accurately. It can take a lot of time to do it manually. You can use the Paraphrasing Tool to avoid duplication in your content. It eliminates the repetitive sentences and words that affect your website's SEO and rankings on search engines.
Features:
No word limitations.
Supports different languages.
Provide you with different modes of writing styles.
Safe and secure tool to use.
Domain Authority Checker- PrePostSEO: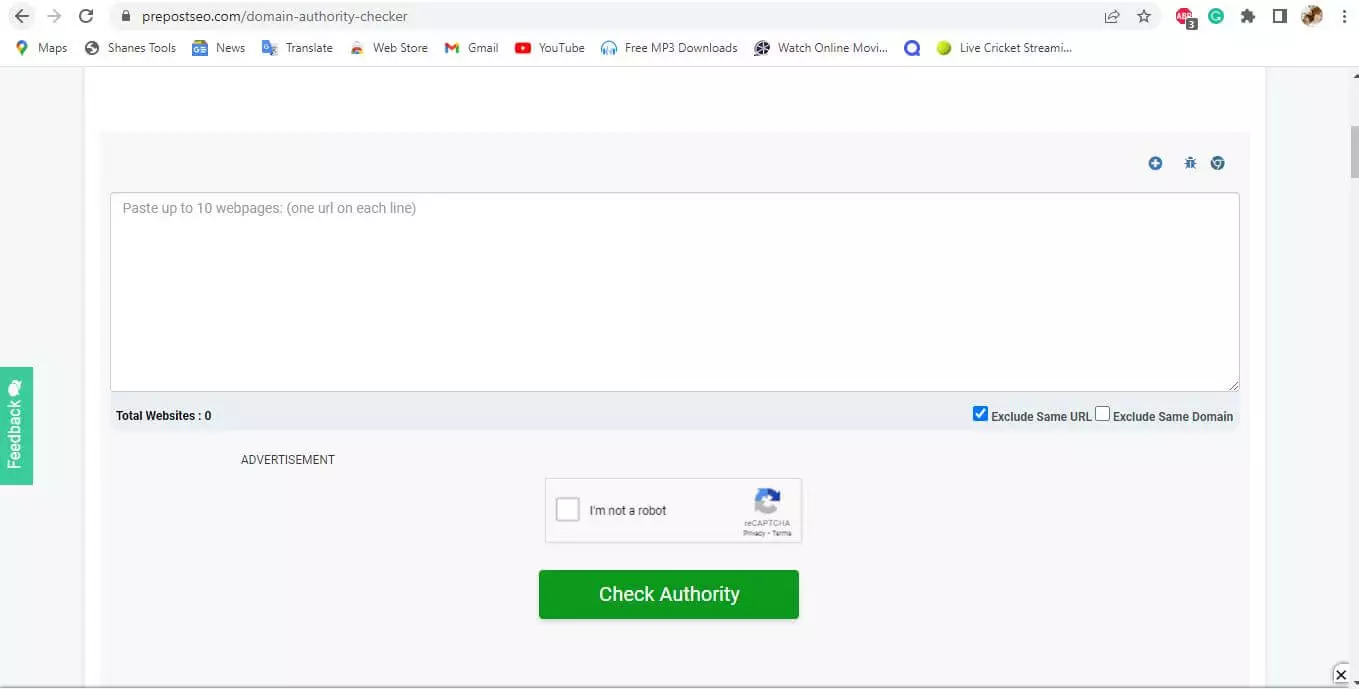 Domain Authority and Page Authority checker tool is another widely used tool of PrePostSEO. This tool helps you determine the DA and PA score for better implementing the strategies.
Besides this, you can also boost your search engines optimization by improving your domain and page authority of websites. You can also gain a competitive edge over your competitors by determining their search volume, keywords they are using, DA score, and much more super effectively.
Features:
Check 10 webpages URL at the same time.
Exclude the same URL checkbox option available.
Exclude the same domain checkbox available.
You can find the exact DA and PA scores on the website.
The premium version lets you check Bulk domains in one go up to 500URLs.
Grammar Checker- PrePostSEO: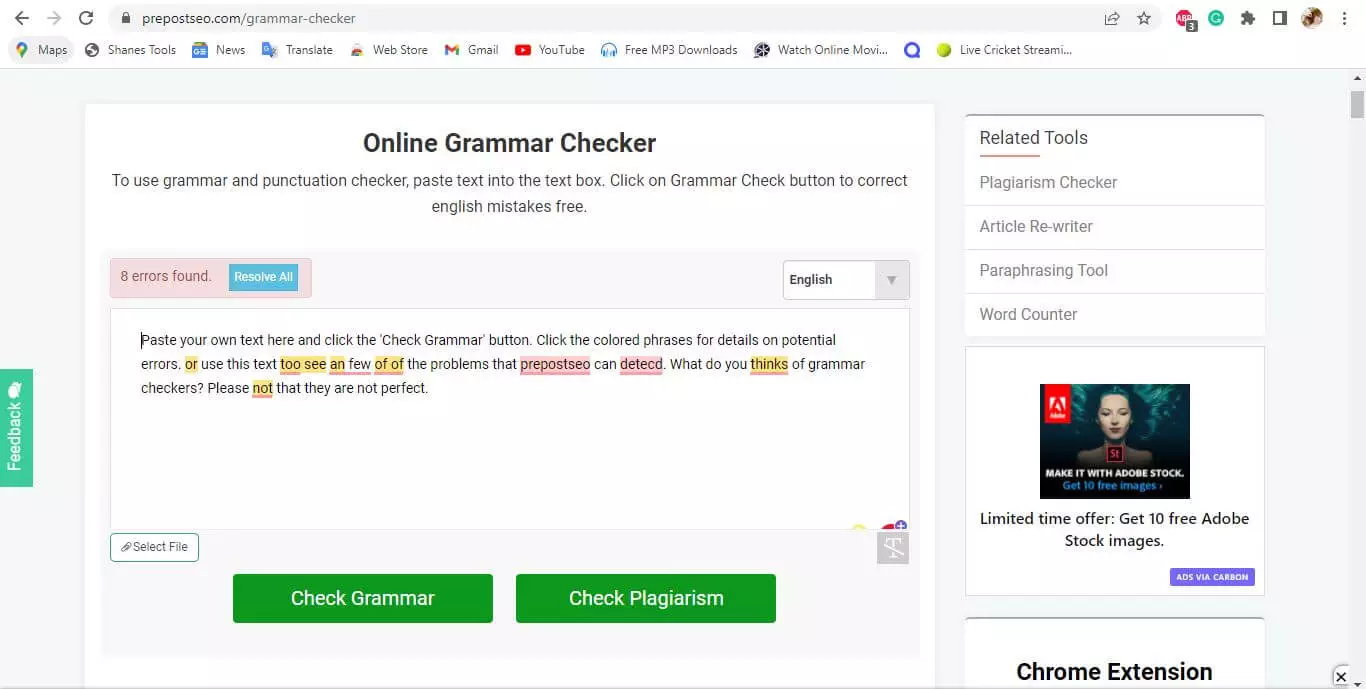 Grammar Checker is one of PrePostSEO's best tools of all time. Millions of individuals use it to rectify their grammatical errors. This would include punctuation, spelling, sentence structure, grammar mistakes, or anything else.
This tool helps you generate 100% accurate and structured content for a website that is error-free. It can reach more audiences if there are rare errors. Users prefer reading content that is accurate and unique.
The tools help you generate unique and authentic content that lets your website rank even higher on search engines with a boost in the engagement and traffic on your website.
Features:
Let's resolve all the problems in a single go.
Supports a variety of languages like Japanese, Russian, Malayalam, Greek and the list goes on.
Selection is easier by your computer browser.
You can smartly share the results on different social media platforms like Facebook, LinkedIn, and Twitter.
Conclusion:
PrePostSEO free online SEO tools provide you with the ultimate tools for every task you want to perform. It can be anything the wide range of 95+ tools helps you with almost every issue.
The Education and writing tools include Text Compare, Code to Text Ratio, Line Counter, Image to Text and the list continues.
The Domain Tools include Domain Age Checker, Backlinks Maker, Blog Search Tool, etc.
The Website Management tools include Google Index Checker, IP Location, etc.
Other tools include PayPal Fee calculator, Binary to Decimal, CPC AND CPM Calculators, Reverse Text Generator, etc.
The list is quite long if you are stuck anywhere you can always check the website you'll find any possible solution for sure.