A successful online community relies heavily on effective communication in today's fast-paced digital environment. Discord has emerged as a leading platform for creating and nurturing communities of all kinds, ranging from gaming clans to professional networks.
As of Jan 2023, Discord had 563 million registered users, with the average US user spending 280.6 minutes (approximately 5 hours) on the platform. 42.4% of Discord users were aged 25 to 34, accounting for the largest proportion of the platform's user base.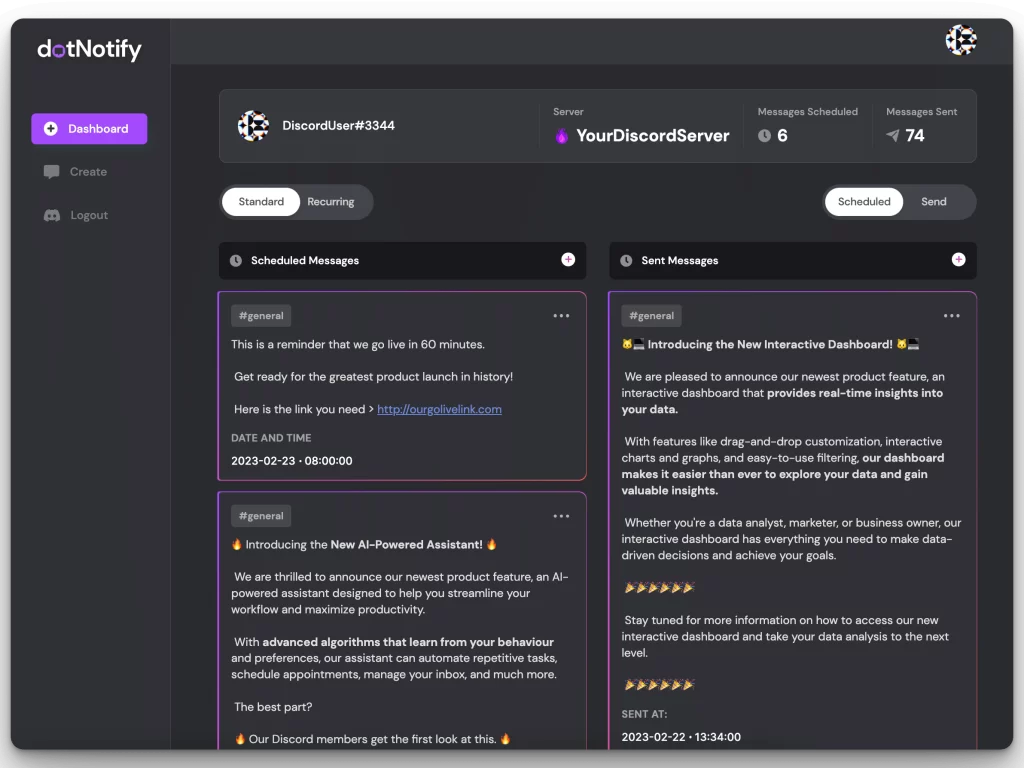 Discord has grown tremendously in the past few years due to its versatility and user-friendly interface. It has become a popular place to connect with people who share similar interests, and its large and diverse user base makes it an excellent platform for networking, gaming, and more.
To maximize engagement and streamline communication processes, Discord users can turn to dotNotify, an exceptional Discord Announcement and Reminder Bot. In this review, we will explore the features and capabilities of dotNotify and how it can revolutionize your Discord community experience.
Scheduling Made Effortless
With dotNotify, the hassle of manually posting announcements and reminders at specific times is a thing of the past. This incredible bot allows users to schedule messages ahead of time, ensuring timely delivery to the desired audience. Whether you need to announce an upcoming event, share important news, or simply send reminders, this bot simplifies the process, saving you valuable time and effort.
Conquer Timezone Challenges
Managing communities with members spread across different time zones can be daunting. dotNotify comes to the rescue by enabling users to schedule multiple messages or announcements for the same event or campaign, effortlessly catering to various time zones. No longer will you miss out on engaging with your community members in different parts of the world.
Streamlined Message Configuration
Crafting visually appealing and engaging announcements is a breeze with dotNotify's intuitive embed builder. This powerful tool empowers users to create professional and eye-catching messages, leaving a lasting impact on the community. From choosing the perfect color scheme to uploading images and including clickable buttons, the bot offers comprehensive customization options, allowing you to tailor each announcement to your specific needs.
Real-Time Preview for Perfection
To ensure your announcements look flawless before they go live, dotNotify provides a What-You-See-Is-What-You-Get (WYSIWYG) editor with a full real-time preview. This feature allows you to make instant adjustments, ensuring your messages are visually appealing and convey the intended information effectively. you have full control over every element of your announcement, resulting in polished and professional communication.
Round-the-Clock Scheduling Flexibility:
Operating in different time zones should never limit your ability to engage with your community. dotNotify empowers Discord users to schedule messages and announcements around the clock, regardless of the timezone. Whether you need to reach early morning risers or night owls, the Discord alert bot ensures that your messages are delivered at the most convenient times, maximizing the impact and effectiveness of your communication efforts.
Final Thoughts
In online communities, effective communication is crucial for building engaged and thriving Discord communities. dotNotify, the remarkable Discord Announcement and Reminder Bot, provides users with powerful features designed to enhance engagement, streamline communication, and save valuable time.
With its scheduling capabilities, intuitive embed builder, real-time preview, and round-the-clock flexibility, this announcement scheduler empowers Discord users to deliver impactful announcements that capture the attention of their community members.