The Bubble Shooter developed by 3D Games is a casual experience for bubble shooting.  It contains a few elements of Action & Adventure game with a proper story and interactive gameplay. This is not a typical shooter where all you care about shooting bubbles and pass each level. The goal is quite big here.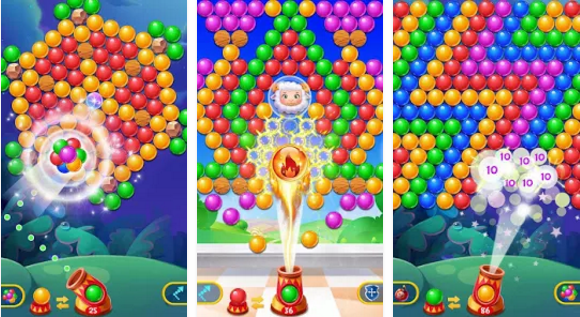 The New Bubble Game
This Bubble Shooter is more than just random shoot'em up game. It has an interesting storyline which has its fair share with the beloved "Angry Birds" Series. The story revolves around sheep that needs to be rescued and you are up for the task.
Now this game has some great shooter features. Apart from the modernized graphics and interactive gameplay, you get the following:
200 Levels

New Maps

Mind Blowing Props

High End Graphics

Great Track List

Engaging Gameplay
The Bubble Shooter is a great take on the match three puzzle game genre. It has a lot of popping gameplay. For someone who is new such games, they only need to learn about the colors and the basic instructions for how to play this game.
Should You Try It?
With the storyline of Bubble Shooter being a repeated one, still it's an additive entry in the genre. It offers many leveling guides. As you level up, you will come across special bubbles and enjoy powers and x2 scoring and dual color bubbles.
The game has different playing modes, both of them are engaging enough.  The gameplay is a bit different from each other, one is fast based while the other has some unique features never seen before. Nonetheless, they both offer a great experience for players for all levels.
So should you try this Bubble Shooter? Absolutely yes, it's a great game and enjoyable even if you are not a die-hard fan of Bubble Shooting genre.