In this high-tech world, we all have a personal email address which we use to connect with lots of people, businesses, services and other online platforms. In a daily life, we browse different websites requiring signup to move ahead or get the special offers. This is email marketing being used largely by the online businesses and companies. They use your email address to keep you posted with their special offerings, events and other important happenings. But one may get irritated with these junk emails as they feel no shame sending you bunch of them on regular basis.
Luckily, there's an option that you could go with to get rid of spam emails. There're lots of online services providing disposable email addresses absolutely for free. You simply visit the site and get a temporary email address, which you could use to sign up to different websites to see their special offerings or free samples.
Emailondeck is one of them offering temporary emails in just two steps. There are no conditions to get disposable emails. All you need to make sure you're not a robot by ticking on the box placed right at the mid of the page. In the next step, you'll get your temporary email address, which could use more freely without having to worry about junk emails. There's no rocket science required to execute the procedure. They employs a simple web interface and even a child can easily create a new fake email address.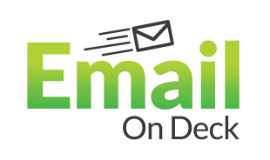 However, there're also many others available online but Emailondeck seems good among all because of its simple procedure. You get your temporary email address in no time while keeping your personal information highly confidential. So, now you can easily access anything on any website without using your personal email.