It's no secret that office environments can be excessively noisy. In many cases, it's difficult to conduct business discreetly much less make a private phone call. In many cases, for workers to make private phone calls, or perform discreet work on their computer, they have to either completely leave the office premises. This can translate to unproductivity and lost time. This doesn't have to be the case anymore. The innovative team at Hollywood Pods has designed state-of-the-art high-quality, soundproofed and free-standing office pods that is completely resolve the issue of privacy. It also boosts productivity as employees are able to perform critical tasks with maximum focus and minimal distraction.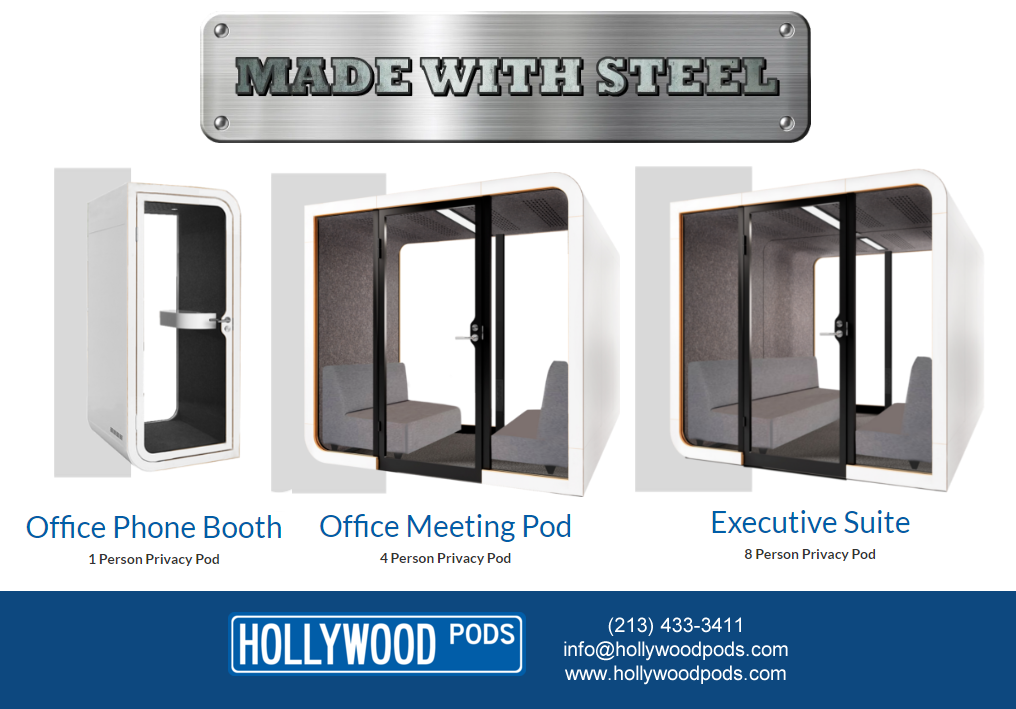 Hollywood Pods provides the following free-standing office privacy pods:
Office Phone Booth (1 privacy pod)
Office Meeting Pod (4 persons)
Executive Suite (Suitable for 8 persons)
Soundproof Office Pods
The following are the features of the office booth:
They are Free-Standing
One awesome advantage of these modular office pods is, unlike regular offices, they don't require permanent construction, fire code permits or floor plan approval. This also renders them much cheaper and easier to build than conventional office or conference rooms.
Economical
The office pods from Hollywood Pods make financial sense regardless of the sise of the company. They can be purchased and brought to their desired location quickly and cheaply. No permits or building codes are required.
Modern Design
The office pods also add to the aesthetics of the office environment. They come in attractive designs that is both appealing and efficient use of space because they are compact and can occupy little space within a larger office.
Easy Financing Options
Hollywood Pods understands that different offices or businesses have different financial capabilities. As such they have designed flexible financing options to ensure that almost any office can acquire a privacy booth. Are you contemplating getting an office or privacy pod? Hollywood Pods offers can design a financing option that fits your budget. You can pay monthly and save capital for other opportunities. Need an instant quote? No problem. You can also be approved in a matter of hours.
Soundproofing
We mentioned that office noise is a chronic problem in many offices. This leads to unnecessary distraction and can interfere with overall productivity. Hollywood Pods privacy booths are constructed with soundproof material to insulate against internal and external noise. Need to make a confidential phone call without necessarily leaving the office? Step inside the privacy booth and shut the door. The innovating design and soundproof materials ensure that no one outside the pod can hear you call. The booth also insulates against noise outside the booth so you can hear the party on the other line with maximum clarity.
Once you make your purchase, techs from Hollywood Pods will bring the booth to your location and perform all the installation steps. As about discounts and promos.