It cannot be denied that ever since the arrival of 3G and 4G internet technology into the country, it has proved to be a major impetus behind people buying smartphones and using internet all the time. This in return have given rise in the usage of online shopping portals. Kaymu, being the premium online shopping community in Pakistan has successfully launched its iOS app for those who use apple products including iPhone and iPads and iPod touch.
Why are Apps Helpful?
People usually question that in the presence of desktop and laptop computers, on which most of the online shopping occurs, why do someone needs to have an app in his/her mobile? The answer lies in mere knowing the facts. Currently almost 12 million people are connected with 3G or 4G in Pakistan and this number was attained during the time span of merely nine months. Now imagine, when the population of 200 million people, which excessively uses mobile, connects with 3g as well? Of course, the future is rightly to be known as m-commerce instead of e-commerce. Once this many people use smartphones and tabs for their everyday activity, it is natural for them to shop online as well through their mobile.
Moreover, people are always on the run and need to things get done while doing other chores as well. Therefore, mobile apps these days are almost indispensable. In fact, some ventures around the world and in our neighboring country have already shut down the web procedure and only take orders through mobiles.
Unique Features of Kaymu iOS app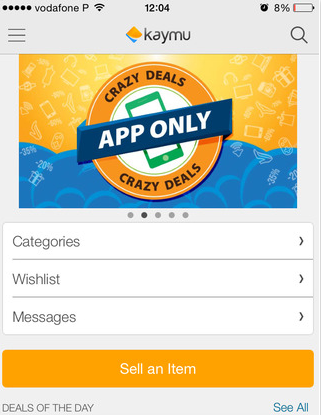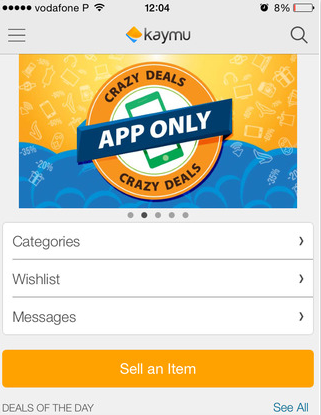 Kaymu iOS app, after the successful experience of android and blackberry apps, offers very unique features and makes the working quite easier for both the buyer as well as the seller. Its intuitive navigation enables the handler to handle his or her account more easily. The buyers and customers can enlist their favorite sellers and see their products right above. On the other hand, sellers will enjoy the liberty of handling their inventory and products with much more ease.
And for both buyers as well as sellers, this app will open a more accommodating space in terms of their contact with the customer support team. The instant communication will allow people to lodge complaints and get response instantaneously.
Also, if you want to become a seller at Kaymu, you're lucky to have this app. Just upload the product picture with a description right away and you have joined the Kaymu family already. So, no doubt the exciting features this app offers will ensure its success in market in the coming days.