If you're looking for a more powerful, scalable and versatile server, there's nothing better than Dell PowerEdge T640 Server, a complete package designed with scalability in mind to deliver optimum results and performance. It comes with 2 socket server performance and a massive internal storage capacity.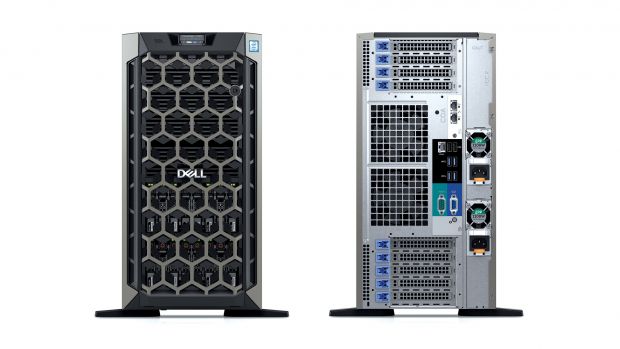 When it comes to CPU, the server is powered by powerful Intel® Xeon® Silver 4110 2.1G scalable processors, with up to 28 cores per processor. It features 24 DDR4 DIMM slots and supports LRDIMMS/ RDIMMS. It supports Registered ECC DDR4 DIMMs only.
It's ideal for:
CRM, ERP, HPC

Consolidation

Desktop virtualization

Server virtualization

Business analytics (BI), database, and intelligence

Applications & imaging for finance, medical, science and education

Software-centric technologies
It's the best choice for remote sites, mid-zed offices and data centers that want to employ a versatile and scalable server to meet their services. It addresses a number of workloads and future proofs your data center with performance, flexible storage and I/O options. It's designed in a way that it meets growing business needs with its scalable structure, accelerating demanding workloads for future growth with lucrative in-server expansion.
What makes it stand out from the rest?
It delivers fast insights with up to eight NVMe drives and 2 10GbE connections.

Scales compute resources with powerful and scalable processors that offer 50 percent increase in bandwidth and 27 percent in cores than its predecessor.

Provides innovative imaging and VDI with 4 300W GPU accelerators

Addresses huge data growth with up to 32 x 2.5″ or 18 x 3.5″ drives, & 8 PCIe slots.
What're your thoughts on this? Have something to say about PowerEdge T640 Server? Please feel free and don't hesitate to share your valuable feedback with us in the comment box below.